"For thy mercy is great above the heavens: and thy truth reacheth unto the clouds" (Tehillim 108:4)


* Success in business or personal endeavors can be achieved when there is careful planning and application of your valuable resources.
* Motivate and empower others by what you offer and success will yield its rewards in ways you've never dreamed of.
Consider these valuable B2B services:
Buyer Connectivity Seller Connectivity
Outsource Connectivity
Small Business Planning
Small Business Structuring
Business Optimization
Structured Resources Optimization
Personal Motivation
* Your success in any endeavor is the catalyst to empower and motivate you to move upward to new levels of achievement.
* Today you choose to begin your journey to empowerment or you choose to remain within the boundaries of self-restraint.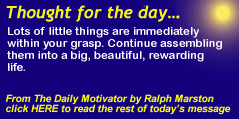 Copyright©2007,2008,2009 Leonard Haynes, Esq.